About Rozashi
About Rozashi
絽刺しとは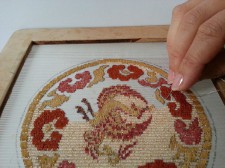 絽刺しは、天平時代より1200年続いている伝統文化の一つです。
東大寺の敷物には絽刺しが今も残されているそうです。
平安の貴族から徳川の大奥まで大変人気の手工芸でした。
明治より後はとくに新しい意匠や技術がとり入れられてきました。
絽刺しは 絽布を木枠に張り必ず垂直に糸を刺します。
七宝柄、青海波柄、紗綾形、亀甲柄等、日本の伝統的な柄を刺すこともできます。
ご自分のお好きな絵を絽刺しの額にしたり、帯や着物、バッグ、アクセサリーを作ることもできます。
伝統を大切にしながら、現代にあった絽刺しを創りたいと願っております。
Rozashi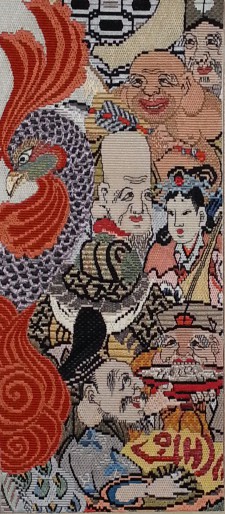 ROZASHI is a traditional culture of Japan that has a history of 1200 years, since the Tenpyo period. An old ROZASHI can be seen in one of the cloth displayed at the famous temple, Todaiji in Nara.
ROZASHI was a popular handicraft hobby among the nobles of Heian period and ladies in the inner palace.
After Meiji period a lot of new designs and techniques were developed.
One of the silk kimono fabric called RO is placed in a wooden frame and special silk threads are embroidered vertically often expressing traditional designs such as SHIPPO-GARA, SEIKAIHA-GARA, SAYAGATA, KIKKO-GARA You can make an original ROZASHI design in a frame for display or you can make unique items by placing them on obi, kimono, bags, and accessories.
Our aim is to appreciate and preserve the ROZASHI tradition at the same time as develop new ROZASHI that is matched to our present life style.